NYU-Catalyst Global Executive Program, powered by @kuncie.id.
Happy to share that @catalyst.global has partnered with @nyuniversity to launch an NYU-Catalyst Global Executive Program, powered by @kuncie.id.
The program is designed for leaders who want to learn from global faculty and industry leaders, while gaining an NYU experience.
"..
Unlock Your Leadership Potential in the Age of Uncertainty
Designed for Southeast Asia's future leaders and changemakers, the NYU-Catalyst certification program empowers you to navigate uncertainties and achieve unparalleled success. Learn from global experts, tackle real business cases, and elevate your skills with the New York University (NYU) Education. Step into the realm of Southeast Asian leadership and unlock your extraordinary potential.
..."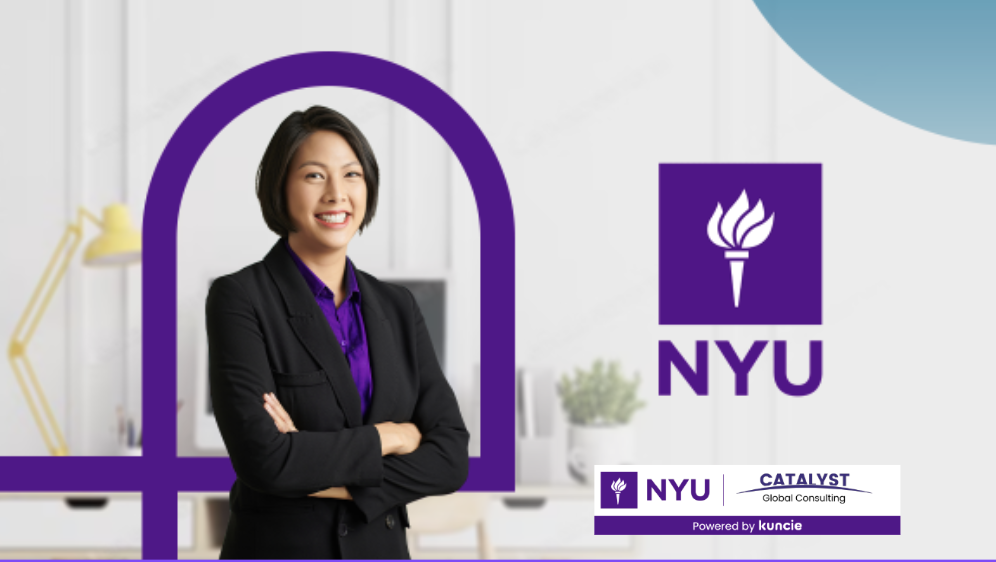 Live Online Class

A virtual learning experience where students and instructors connect in real-time through Zoom. It provides interactive engagement and flexibility, allowing participants to join from anywhere.

Final Project & Presentation

The final project and presentation are team efforts aimed at showcasing your learning and presenting your capstone project 
Adaptive Innovation in Times of Disruption
Explore the concept of adaptive innovation and its importance in navigating disruptive environments.
Discover the power of design thinking in solving complex problems for leaders.
Gain valuable insights to enhance your understanding of effective change management and leadership strategies. 
The Art of Experimentation
Discover the importance of experimentation for organizational innovation.
Enhance your leadership skills and navigate the complexities of a diverse global workforce.
Creating a Culture of Innovation
Learn how leaders can champion a culture of innovation in their organization.
Application is now open.  Participants will have the opportunity to engage with global renowned faculty, interact with industry experts, and collaborate with a diverse network of peers. 
Email:         contact@cgcteam.com
Phone:       +62 812.8118.5751
Offices:    Menara Caraka (HQ)
Jl. Mega Kuningan Barat Blok E.4.7 No.1
Kuningan, Jakarta Selatan 12950
Copyright © 2023 Catalyst Global Consulting. All rights reserved.