Press Release - Awarded as Top 10 Emerging Organizational Development Company in APAC 2022, A Testament to the Remarkable Dedication of Catalyst Global Consulting to Support Businesses in Redefining Their People & Organizational Strategy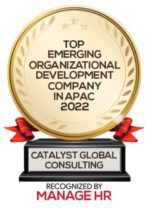 Catalyst Global Consulting was announced as one of the Top 10 Emerging Organizational Development Companies in APAC 2022 by Manage HR Magazine. The awarding was upon their successes in resolving clients' challenges focused on people and culture strategy, organizational development, and HR technology implementation.
Through people and organizational strategy, Catalyst has its mission for organizations to maximize their strengths by recognizing their core values, vision, culture, and goals. Catalyst also emphasized that educating leaders about how important sharing a clear vision, committing to the core values, and implementing them is essential especially for startups who want to grow and thrive in the post-pandemic world.
"We are honored to be acknowledged by Manage HR Magazine for our work and partnership with our clients in building better and more sustainable organizations that can bring about positive changes not only within the organizations, but also throughout their community and society. We are thankful to our clients and partners who have trusted us in working together to tackle people & organizational challenges," Reno Rafly, Director of Catalyst Global Consulting, said in her statement.
With many clients throughout APAC, Catalyst has made an excellent record of supporting companies in developing their best team. Not only by formulating strategy but also guiding the implementation to solve their problems.
"We look forward to contributing more in building better organizations and workforce for the future,'' said Reno.
In addition, Catalyst also provides education and mentorship for the next generation of entrepreneurs and leaders in Indonesia through its partnership with Prestasi Junior Indonesia (PJI).
"Reno's commitment to preparing the future of young Indonesians through mentorship is truly outstanding. We look forward to a continued partnership in the years ahead," said Nico Kiroyan, Executive Director at Prestasi Junior Indonesia.
About Catalyst Global Consulting :
Established in 2015, Catalyst Global Consulting is a team of globally-trainedprofessionals with a wide range of expertise in people strategy, organizational development, and technology management.
To learn more about Catalyst, please visit www.cgcteam.com.
About Manage HR Magazine:
Manage HR Magazine is a print and digital magazine that offers HR business and technology insights, high quality, timely, and informative news concerning HR issues, insightful opinion and best practices advice from their peers facing similar situations.
To learn more about Manage HR Magazine, please visit www.managehrmagazine.com.
About the Award:
Top 10 Emerging Organizational Development Companies in APAC by the Manage HR Magazine is an annual award designated for emerging firms that are at the forefront of tackling clients' challenges.
---
Contacts
Email : contact@cgcteam.com
Phone : +62 812.9474.2362
Instagram : @catalyst.global
Email:         contact@cgcteam.com
Phone:       +62 812.9474.2362
Offices:     CoHive 101 (HQ)
Jl. Mega Kuningan Barat Blok E.4.7 No.1
Kuningan, Jakarta Selatan 12950
Copyright © 2022 Catalyst Global Consulting. All rights reserved.